Monthly Archives:
December 2012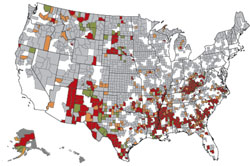 The December edition of Amber Waves highlights a concerning trend: the growth and concentration of rural poverty. While poverty grew throughout the United States as a result of the 2001 and 2007-2009 economic recessions, it grew faster in rural areas, compared to metropolitan areas.  The report notes that "in 2006-10, 26.2 percent of the Nation's nonmetro [i.e. rural] counties were high poverty, 5.8 percentage points higher than in 2000." By comparison, 10.3 percent of metropolitan counties were high poverty counties in 2006-10, increasing 3.7 percentage points from 2000.
The report also points to the impact of poverty, noting that "research has shown that the poor living in areas where poverty is prevalent face impediments beyond those of their individual circumstances. Concentrated poverty contributes to poor housing and health conditions, higher crime and school dropout rates, as well as employment dislocations. As a result, economic conditions in very poor areas can create limited opportunities for poor residents that become self-perpetuating."
The full article by Tracy Farrigan and Timothy Parker, along with supporting documents and data, can all be accessed through the online Amber Waves magazine, a publication of the United States Department of Agriculture Economic Research Service. Another publication from USDA worth looking in to is Rural America at a Glance, 2012 Edition.
A Yes magazine article by Frances Moore Lappé tells the story of how Brazil's fourth largest city, Belo Horizonte, tackled the issue of hunger. Using a combination of policy and market measures, along with citizen engagement, the city reached nearly 40 percent of it's 2.5 million citizens through various hunger relief and nutrition efforts and reduced infant mortality by half over a 10 year period. In particular, the city worked to link local farmers with consumers through the establishment of farmers' markets, used pricing schemes to make certain fruits and vegetables more affordable, and established "People's Restaurants" (Restaurante Poplular) to serve inexpensive, wholesome meals. Other initiatives focused on community and school gardens and nutrition education. These efforts stemmed from a philosophy that access to good food is a human right.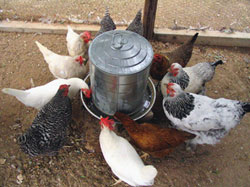 The Community Food Resource Center, part of the Community Food Bank of Southern Arizona, stands out for their efforts to incorporate programs and projects that link people to community-based food systems.  They have active home and community gardening programs, a 2.5 acre urban farm, and farmers' markets that provide a source of fresh food to the community. The Resource Center also supports a unique Community Food Consignment Program which enables home gardeners and small farmers to consign their produce for sale at local farmers' markets.
Robert Ojeda, vice president of the Community Food Resource Center, was recently on the University of Missouri campus as part of the Interdisciplinary Center for Food Security Research Symposium. His presentation, along with the presentations of other invited speakers, can be found here.