Monthly Archives:
April 2013

That is the question posed by the Health Communication Research Center, a partner of the Interdisciplinary Center for Food Security, as their staff embarked on the Food Stamp Challenge in March. Limiting food expenditures to $28 dollars per week (the average SNAP benefit for a person in Missouri), they set out to learn about the challenges of eating healthy on a food stamp budget and shared their experiences on the their blog. The challenge coincides with National Nutrition Month and the release of the documentary, A Place at the Table.
The Health Communication Research Center at the University of Missouri School of Journalism uses evidence-based communication tools to help strengthen public health for stronger Missouri communities. The center works with a wide range of clients and may be contacted by following this link.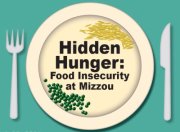 Hunger on college campuses is often overlooked, but with increasing costs for tuition and housing, students often find themselves pinched. Students at the University of Missouri recently organized an event to bring the issue to light. Co-hosted by the Women's Center, Tiger Pantry (MU's campus-based food pantry), and the Environmental Leadership Office, Hidden Hunger included a panel of MU students who shared their personal stories about dealing with food insecurity. Ashley Vancil, a graduate student with the Interdisciplinary Center for Food Security, moderated the panel. More information about the forum can be found at the Maneater and the Columbia Daily Tribune.