Tag Archives:
data

The Missouri Hunger Atlas 2013, recently released by the Interdisciplinary Center for Food Security, provides a county-by-county assessment of the extent of food insecurity in the state. The Atlas also measures the work of a host of public and private programs intended to help people struggling with hunger.
First issued in 2008, the Missouri Hunger Atlas is now in it's third edition and features updated county tables and rankings, indicator maps, and trend analyses. A new feature of the 2013 edition is a Food Affordability measure. This measure estimates the percent of income required each week by households to meet average food expenditures in a given county.
The 2013 Atlas is available in whole or part and is easy to use and access by visiting the Missouri Hunger Atlas 2013 webpage.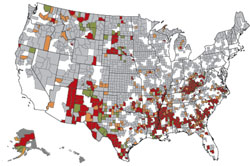 The December edition of Amber Waves highlights a concerning trend: the growth and concentration of rural poverty. While poverty grew throughout the United States as a result of the 2001 and 2007-2009 economic recessions, it grew faster in rural areas, compared to metropolitan areas.  The report notes that "in 2006-10, 26.2 percent of the Nation's nonmetro [i.e. rural] counties were high poverty, 5.8 percentage points higher than in 2000." By comparison, 10.3 percent of metropolitan counties were high poverty counties in 2006-10, increasing 3.7 percentage points from 2000.
The report also points to the impact of poverty, noting that "research has shown that the poor living in areas where poverty is prevalent face impediments beyond those of their individual circumstances. Concentrated poverty contributes to poor housing and health conditions, higher crime and school dropout rates, as well as employment dislocations. As a result, economic conditions in very poor areas can create limited opportunities for poor residents that become self-perpetuating."
The full article by Tracy Farrigan and Timothy Parker, along with supporting documents and data, can all be accessed through the online Amber Waves magazine, a publication of the United States Department of Agriculture Economic Research Service. Another publication from USDA worth looking in to is Rural America at a Glance, 2012 Edition.