Tag Archives:
Grow Well Missouri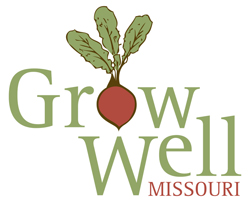 Grow Well Missouri partners with food pantries, local organizations, and volunteers to establish food gardening programs that reach out to food pantry customers. By offering a selection of seeds, vegetable transplants, educational materials, and one-on-one advice, Grow Well Missouri helps those who use food pantries reap the many benefits of gardening.
The project stems from ongoing research of the Interdisciplinary Center for Food Security showing that rates of chronic health conditions (e.g. diabetes, hypertension, and high cholesterol) are significantly higher among food pantry clients than the general public.
Now in its fifth year, Grow Well Missouri is active with many partners across the state. Lead agencies include:
Shelby County Food Pantry (Shelbina), St. James Caring Center, Help Center (Mexico), Central Pantry (Columbia), Cargill Cares Food Pantry (California), Neighbors Helping Neighbors (Boonville), Crosslines (Joplin), Share the Harvest (Greenview), Hickory County C.A.R.E.S. (Wheatland), Dallas County Neighborhood Center (Buffalo),  Community Outreach Ministries (Bolivar), Master Gardeners of Greene County (Springfield), Shepherd's Nook Food Pantry (Salem), Good Samaritan of the Ozarks (Waynesville), Randolph County Caring Communities (Moberly), Independent Living Center (Joplin), Willard School District/Community Food Pantry, the Morgan County Health Center (Versailles), Macon County Ministries, Schuyler County Food Room (Lancaster), Holts Summit Food Pantry, Helping Hands of Central Missouri (St. Elizabeth), and Tiger Pantry (Columbia).
Beyond Gardening
Grow Well Missouri goes beyond gardening. It builds community capacity by helping groups establish community gardens, initiate healthy food education, and leverage resources to meet their goals. It also works to assess the strengths of food pantries and develop tools to increase learning and sharing among agencies across Missouri.
The project is supported by a host of additional partners including the Health Communication Research Center, the Food Bank for Central and Northeast Missouri, University of Missouri Extension, local Master Gardener and Garden Club groups, and Feeding Missouri. Private companies including St. Louis Composting, Morgan County Seeds, and Strawberry Hill Farms provide support as well.
To learn more about the impact Grow Well Missouri is making, see our evaluation results from the 2016 gardening season. Contact Bill McKelvey, Grow Well Missouri Project Coordinator, at McKelveyWA [at] missouri [dot] edu for more information.
Funding
Funding for this project is provided in part by the Missouri Foundation for Health. The Missouri Foundation for Health is a philanthropic organization whose vision is to improve the health of the people in the communities it serves.
Resources
A host of educational materials are available on the Grow Well Missouri Resources page. Also check out our new publication, The Garden Starter.
Related
Newsmaker — Grow Well Missouri helps local families (KMZU, 100.7 FM)
Food pantries help patrons grow their own produce (Harvest Public Media)
Grow Well Missouri: Helping a Rural Community Through Gardening (MU HCRC)
From the Ground Up: Grow Well helps with food insecurity and lack of healthy choices (CAFNR News)
MU to Help Foster Food Pantry Capacity, Education in Rural Missouri (MU News Bureau)
Better Food Choices, CAFNR team collaborates to improve food pantry nutrition  (CAFNR News)
Partnering for Improved Nutrition: MU interdisciplinary team works to improve nutrition and access to healthy foods (CAFNR News)