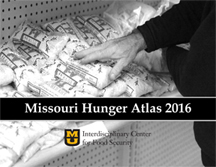 Hunger in Missouri continues to be a cause for concern. According to the newly updated Missouri Hunger Atlas, 7.9 percent of Missouri households struggle with hunger. An additional 8.9 percent of households report reducing the quality, variety, or desirability of their diets due to insufficient resources. In total, approximately 980,000 Missourians experience food insecurity at some point in the year.
Now in its 4th edition, the Missouri Hunger Atlas, published by the Interdisciplinary Center for Food Security at MU, assesses the extent of food insecurity in the Missouri. It also gauges how well public programs are doing to address the need. Importantly, the Atlas presents a range of indicators related to food insecurity for each county in Missouri, including the city of St. Louis.
The entire Atlas can be downloaded for free on the Missouri Hunger Atlas 2016 webpage.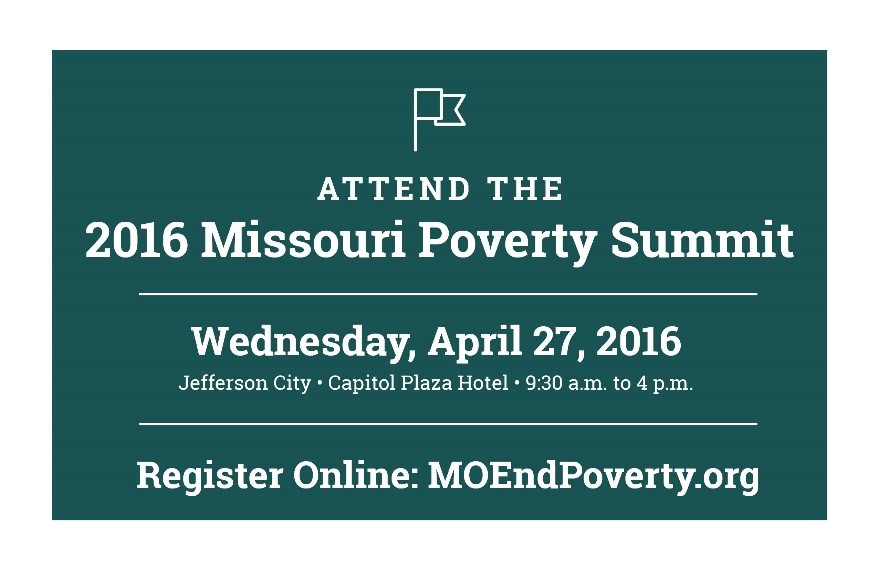 Registration for the 2016 Missouri Poverty Summit is now open! Hosted by the Missourians to End Poverty, a nonpartisan coalition, the summit will unite Missourians to address the reality of poverty in the state. Join local leaders from across Missouri as they present best practices and proven solutions to lift people out of poverty. The summit will take place on April 27 in Jefferson City, MO at the Capitol Plaza Hotel. Registration information is available at http://www.moendpoverty.org/poverty-summit.html.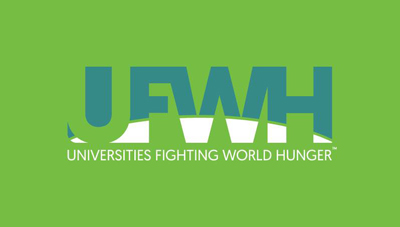 The 2016 Universities Fighting World Hunger Summit will take place on Feb 26 and 27 at the University of Missouri in Columbia. The theme this year is "From Poverty to Promise."  The summit will bring students, faculty, and professionals together to explore solutions to hunger at home and abroad. It will feature interactive sessions, renowned keynote speakers, and ample opportunities for networking and dialogue. Invited guests will lead discussions on the connections between food security and health, policy solutions to domestic hunger, and addressing issues of stigma in vulnerable populations, among others. Registration is now open. Go to the summit registration web page to reserve your spot. Sponsored by the Deaton Institute for University Leadership in International Development, the Interdisciplinary Center for Food Security, Mizzou Advantage, and partners.
Grow Well Missouri is expanding! This winter, the project accepted applications from interested food pantries and community partners. The program will add six new food pantry partners in 2016. Each group will receive an assortment of cool and warm season bulk vegetable seed, materials for repacking and displaying the seed, attendance at a face to face orientation to learn how to run the program, and access to Grow Well Missouri educational materials. The supplies alone are valued at up to $1,200. Keep posted to hear about our progress.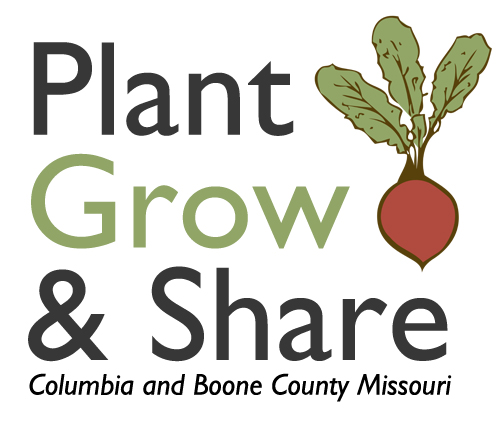 Gardeners and farmers across Missouri have another option for donating produce. Plant, Grow & Share links growers and hunger relief groups to increase donations of fresh, garden grown produce to low income families. To be involved, gardeners can visit the Plant, Grow & Share webpage and use the Feeding Missouri Agency Finder to find contact information about hunger relief groups in their area. Additional resources and tips are available on the page as well.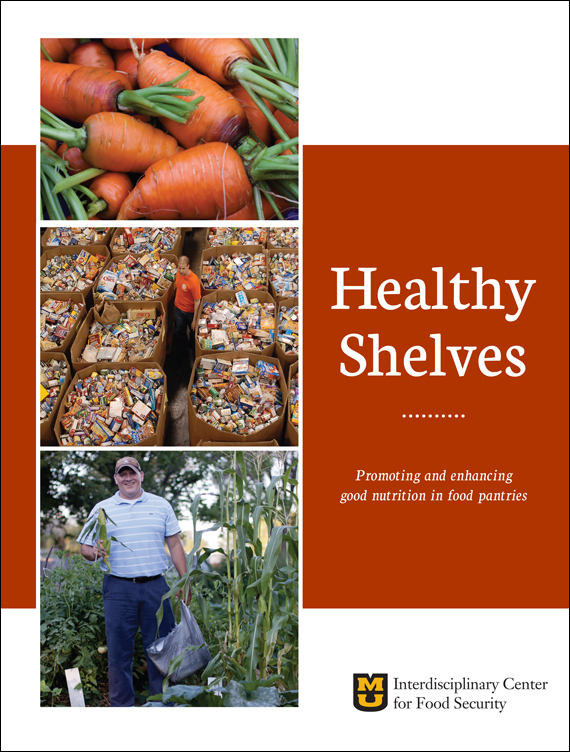 A new publication by the Interdisciplinary Center for Food Security, Healthy Shelves: Promoting and enhancing good nutrition in food pantries, was released in January 2015. This 24 page booklet offers tips and strategies for linking food pantries and community partners to get healthier food onto the shelves of pantries and into the homes of food pantry customers. With strategies based on more than two years of field work, the guide highlights nutrition improvement activities in the areas of Food Availability and Access, Food Consumption, Food Pantry Capacity and Development, and Food Acquisition and Distribution. Personal stories highlight the innovative work of pantry directors and partners committed to improving community health.
The complete booklet including supplemental materials can be downloaded from the Healthy Shelves home page. For more information, contact Bill McKelvey at McKelveyWA@missouri.edu.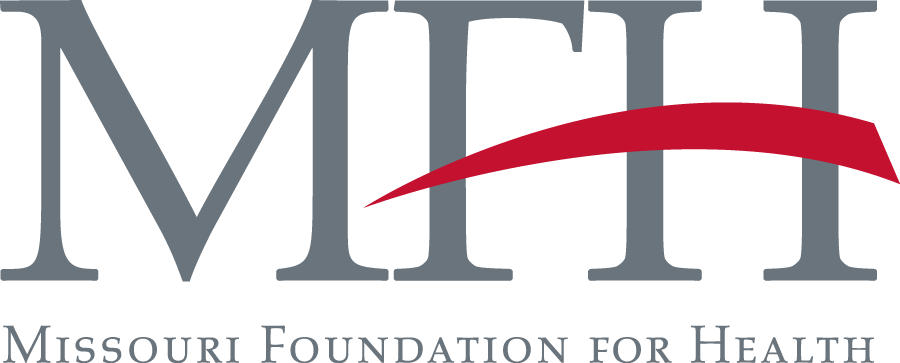 Delving deeper into the issue of health equity, the Missouri Foundation for Health recently released Older Adult Health Disparities in Missouri. The report examines the physical and mental health issues faced by older adults along with barriers to quality care. As noted, by 2030, 21 percent of the population in Missouri will be 65 or older, compared with 14 percent in 2011. Given this demographic shift and the health challenges faced by this group, the report puts forward a number of service and policy options to better support the health and quality of life of older Americans.
The report is part of a Health Equity Series that also examines health disparities among African Americans, Hispanics, and the LGBT community.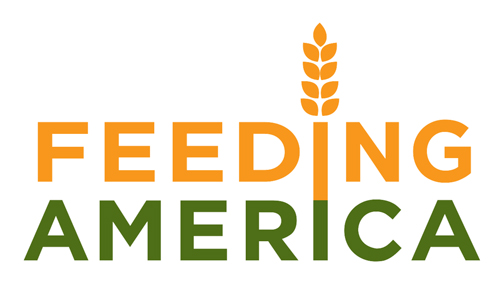 The nation's largest hunger relief charity, Feeding America, released the findings from a recent survey of member agencies and food pantry visitors.  The report sheds light on the real life challenges faced by individuals and families in the U.S. struggling to make ends meet. Well over half of Feeding America client households have to make difficult decisions between paying for food and utilities, transportation, medical care, and housing. The report also confirms research of the Interdisciplinary Center for Food Security showing that client households are more likely to have a member with high blood pressure or diabetes, compared to state or national averages.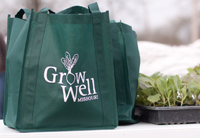 Grow Well Missouri, a project of the Interdisciplinary Center for Food Security that partners with food pantries to offer food gardening resources to pantry clientele,  recently released the evaluation results from their 2013 gardening program. Despite some tough growing conditions around mid Missouri, nearly 90% of respondents noted that their gardens ranged from "very productive" to "somewhat productive." The evaluation also showed that participants are very inclined to share their garden's bounty with others. Eighty-eight percent of respondents shared produce with family, friends, and neighbors.
The complete Grow Well Missouri 2013 Gardening Program Evaluation Summary is available on the project's webpage. For additional information, contact project coordinator Bill McKelvey at McKelveyWA@missouri.edu.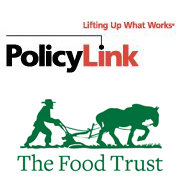 Policy Link and The Food Trust recently released a joint report titled Access to Healthy Food and Why it Matters: A Review of the Research. Drawing on more than 300 studies published between 1990 and 2013, the report highlights the importance of improving access to healthy food for those living in low-income neighborhoods, communities of color, and rural areas. In addition to showing that better eating habits and decreased risk of diet-related diseases are associated with living closer to retail outlets that carry healthy foods, the report provides evidence for the positive economic impact of healthy food retailing and an analysis of policy and research implications.