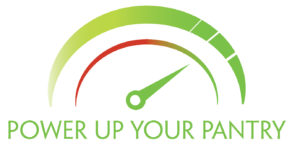 Power Up Your Pantry is a University of Missouri program for food pantries and other hunger relief groups looking for ways to enhance their current operations and better meet the needs of the people they serve. See below for the resources that were created over the course of this three-year program!
A Conversation About Burnout Webinar Series

The Power Up Your Pantry A Conversation About Burnout: Checking In, Not Checking Out webinar series featured discussions about recognizing, addressing, and preventing burnout in ourselves and others. In addition, the series included facilitated discussions for food pantry and food bank volunteers and staff to talk about the challenges and opportunities of providing hunger relief during the Covid-19 pandemic.
Materials and recordings are available HERE.
Beginning Grant Writing Workshop
The Power Up Your Pantry Beginning Grant Writing Workshop took place via Zoom during March – July, 2020. The goal of the workshop was to help those with little to no grant writing experience gain the skills, knowledge, and confidence needed to apply for small grants. The workshop emphasized learning-by-doing and included presentations, small group discussion, featured speakers, and homework assignments.
Materials and recordings are available HERE.

Lunchbox Learning Webinars

Power Up Your Pantry Lunchbox Learning includes short, informative, recorded sessions that cover a variety of topics relevant to food pantry directors, staff and volunteers – all in the span of an hour! We've tried our best to gather interesting local experts from food pantries and related agencies to share their knowledge and skills. Topics include community gardening, fundraising, client choice, SNAP outreach, and more.
Materials and recordings are available HERE.

Guide Sheets
Power Up Your Pantry Guide Sheets are bite-sized publications for groups looking for an introduction to host of topics. Topics range from the essential – including working with volunteers, fundraising, and communications – to partnering with farmers and gardeners, starting a community garden, and implementing a Client Choice food distribution system. Most guides include a Spotlight that features the work of food pantry directors or community partners who put the ideas in to action.
The guide sheets are available  HERE.
For more information about any of our programs, please feel free to contact Bill McKelvey, Project Coordinator, at McKelveyWA@missouri.edu or 573-882-4973.
Funding for this project was provided in part by the Missouri Foundation for Health. The Missouri Foundation for Health is a philanthropic organization whose vision is to improve the health of the people in the communities it serves.