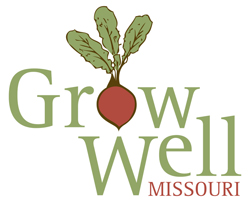 Grow Well Missouri partners with food pantries, local organizations, and volunteers to establish food gardening programs that reach out to food pantry customers. By offering a selection of seeds, vegetable transplants, educational materials, and one-on-one advice, Grow Well Missouri helps those who use food pantries reap the many benefits of gardening.
Funding for this project was provided in part by the Missouri Foundation for Health and concluded in 2018. For more information, contact Bill McKelvey at McKelveyWA@missouri.edu.
Beyond Gardening
Grow Well Missouri goes beyond gardening. It builds community capacity by helping groups establish community gardens, initiate healthy food education, and leverage resources to meet their goals. It also works to assess the strengths of food pantries and develop tools to increase learning and sharing among agencies across Missouri.
To learn more about the impact of Grow Well Missouri, see our evaluation results from 2013 to 2017.
Resources
A host of educational materials are available on the Grow Well Missouri Resources page, including The Garden Starter.
Related
Newsmaker — Grow Well Missouri helps local families (KMZU, 100.7 FM)
Food pantries help patrons grow their own produce (Harvest Public Media)
Grow Well Missouri: Helping a Rural Community Through Gardening (MU HCRC)
From the Ground Up: Grow Well helps with food insecurity and lack of healthy choices (CAFNR News)
MU to Help Foster Food Pantry Capacity, Education in Rural Missouri (MU News Bureau)
Better Food Choices, CAFNR team collaborates to improve food pantry nutrition (CAFNR News)
Partnering for Improved Nutrition: MU interdisciplinary team works to improve nutrition and access to healthy foods (CAFNR News)