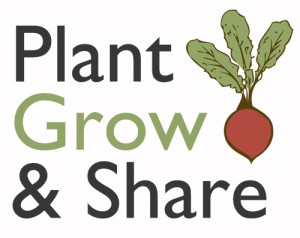 Plant, Grow & Share is a project of Grow Well Missouri and the Interdisciplinary Center for Food Security. The goal is simple – to encourage donations of fresh, garden-grown produce to hunger relief groups. We believe that good food should be on the tables of everyone in our state. Please join us!
How does it work?
Gardeners, community garden groups, and farmers can find a hunger relief group in their community by visiting the Feeding Missouri agency finder webpage.
Consider the options provided and make a phone call to determine whether a group can accept donations of fresh produce. Confirm the quantity of produce they can handle, their address, and the hours they accept donations.
When it comes time to donate, harvest and handle the produce with care. We have provided tips for ensuring that produce remains fresh and safe for recipients.
Tell your friends. We can make a bigger difference if we all pitch in.
Why is this important?
According to the Missouri Hunger Atlas, 14.2% of Missourians (equal to 865,400 people) are food insecure. Those who are food insecure are disproportionately affected by health conditions such as diabetes and high blood pressure. Food insecurity in children is linked to lower reading and math scores and higher rates of behavioral health issues.
Resources
Donating Produce from Farms and Gardens – for tips on how food pantries and growers can work together to increase produce donations.
Safely Harvesting and Handling Produce – for tips on using safe harvesting and handling practices when making donations of fresh produce to a food pantry.
Planting Calendar – North Missouri
Planting Calendar – Central Missouri
Planting Calendar – Ozarks (Missouri)
Planting Calendar – Southeast Missouri
Planting Calendar – Southwest Missouri
Planting Calendar – South Central Missouri
Please contact Bill McKelvey at McKelveyWA [at] missouri [dot] edu for more information.