Grow Well Missouri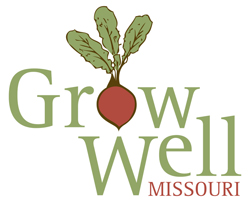 Grow Well Missouri works to enhance healthy food access and education in food pantries. The project stems from ongoing research of the Interdisciplinary Center for Food Security showing that rates of chronic health conditions (e.g. diabetes, hypertension, and high cholesterol) are significantly higher among food pantry clients than the general public.
In late 2015, Grow Well Missouri will help up to 6 communities join our program. Go to our Partnership Opportunity page for more information.
Initiated in 2011 through a grant from the U.S. Department of Agriculture, Grow Well Missouri is now entering its fifth year with funding from the Missouri Foundation for Health. As the project moves forward, key activities include
Formation of Wellness Groups at food pantries to identify high priority health and nutrition needs and develop strategies to address those needs.
Gardening education in combination with the distribution of garden seeds and other supplies to food pantry clients to support the expansion and development of home and community gardens.
Development of a Peer to Peer network of food pantry directors, staff, and volunteers to increase learning and sharing among groups across Missouri.
As of 2015, agencies enrolled in the project include the Shelby County Food Pantry (Shelbina), St. James Caring Center, the Help Center (Mexico), Central Pantry (Columbia), Moniteau Christian Ministries Center (California), and Neighbors Helping Neighbors (Boonville). The project is supported by a host of partners including the Health Communication Research Center, the Food Bank for Central and Northeast Missouri, University of Missouri Extension, and the Missouri Food Bank Association. Private companies have provided support as well, including St. Louis Composting and Morgan County Seeds.
To learn more about the impact our project is making, see our evaluation results from the 2014 gardening season.
Resources
The Garden $aver: News from Grow Well Missouri
Issue 1, 2015: Soil Temperature, Spring Garden Prep, Growing Green Peas, Small Plot Gardening, Roasted Snap Peas with Garlic and Herbs
Issue 2, 2015: Last Spring Frost, Improving and Caring for Soil, Growing Cabbage, Small Plot Gardening, Bill's Oil and Vinegar Coleslaw
Issue 3, 2015: Warm Season Planting Tips, More on Soil, Growing Tomatoes, Salad Breakthrough
Issue 4, 2015: Fall Gardening, Taking Care of the Harvest
_____________________________________________________________________________________________
Issue 1, 2014: Soil Improvement, Garden Hygiene, Harvesting Sweet Potatoes, Salsa and Roasted Squash
Issue 2, 2014: Storing Seeds, Tool Maintenance, Crop Rotation, Cooking Sweet Potatoes
Related
Food pantries help patrons grow their own produce (Harvest Public Media)
Grow Well Missouri: Helping a Rural Community Through Gardening (MU HCRC)
From the Ground Up: Grow Well helps with food insecurity and lack of healthy choices (CAFNR News)
MU to Help Foster Food Pantry Capacity, Education in Rural Missouri (MU News Bureau)
Better Food Choices, CAFNR team collaborates to improve food pantry nutrition  (CAFNR News)
Partnering for Improved Nutrition: MU interdisciplinary team works to improve nutrition and access to healthy foods (CAFNR News)
Funding
Funding for this project is provided in part by the Missouri Foundation for Health. The Missouri Foundation for Health is a philanthropic organization whose vision is to improve the health of the people in the communities it serves.
chronic health conditions, food bank, food insecurity, food pantry, Food Pantry Nutritoin Project, food security, fresh fruits and vegetables, Garden $aver, Garden Newsletter, Garden Saver, gardening, gleaning, Grow Well Missouri, health, healthy food, healthy food drive, Interdisciplinary Center for Food Security, mizzou, Morgan County Seeds, produce, seeds, St. Louis Composting, university of missouri